Poster Design Software for Schools
Introducing Design Studio
The exclusive design studio is a poster design software for schools that allows you to create and print customized posters within minutes!
For years, Presentation Solutions has provided schools with poster printing resources that are innovative and easy to use. Using the Design Studio software, teachers and students can easily create and print high-quality posters in the classroom. Saving your school thousands of dollars in printing costs.
The Best Poster Design Software for Schools
We are convinced that Design Studio is the best poster design software for schools because it is versatile and user-friendly.   Teachers can easily navigate the program and with just a few clicks, create unique posters. 
Students can also get involved and express their creativity. How? Using their own device, students are able to design a poster on a platform such as Canva, send it to the teacher, and have it printed. Teachers can then showcase beautiful posters and banners at school.
Our poster design software comes preinstalled and ready to go right out of the box. There are hundreds of pre-designed templates uploaded to the device that, with just a few clicks, let you customize your own posters. By using design tools, such as Canva and Adobe, teachers can integrate custom designs and logos into our poster maker software.
You don't need to be a graphic designer to create eye-catching and professionally designed posters.
(Insert Video of computer screen and on it, you see a template, the school name is changed, the picture is changed and a color is changed, then click print…. The idea is to show how easy it is to personalize a template)
Features of Design Studio Poster Maker Software
User-friendly interface
Instructional videos
Hundreds of pre-designed, ready-to-use poster templates
Drag and drop capabilities to create custom designs
Integrates with Canva
What Comes With My Poster Maker Machine?
Each poster printer machine has all the tools needed to create and print a poster right out of the box so you can create posters for your school quickly and easily.
Computer (loaded with free templates)
Monitor
Printer
Cords
Software
Accessories
Ink
Paper
Instructional Videos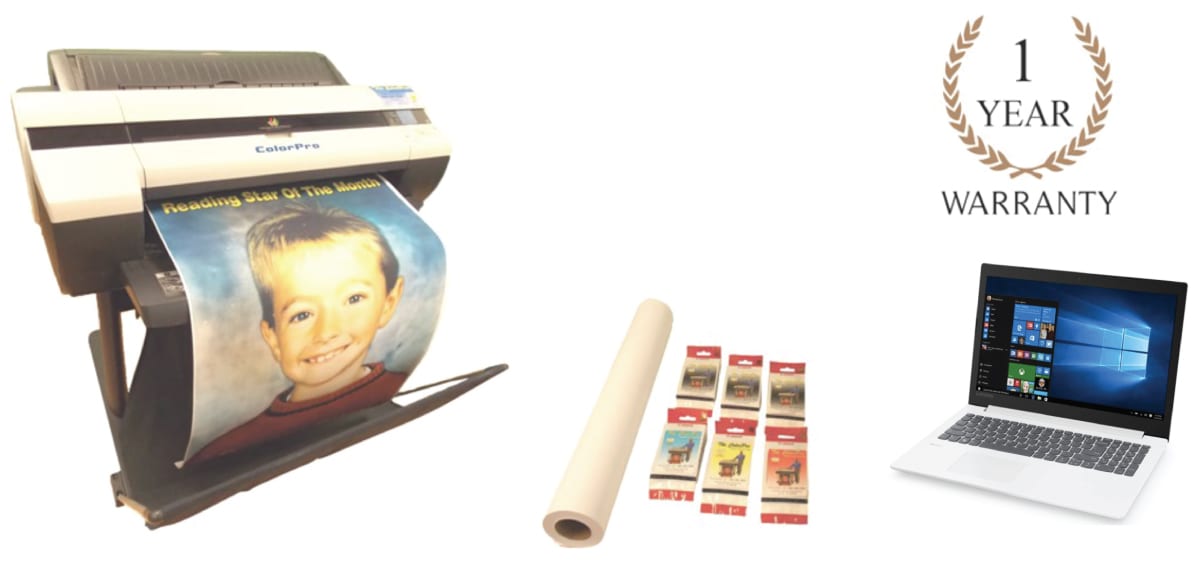 We even provide a step-by-step instructional video that allows you to set up your poster maker as soon as it arrives at your school. Design Studio combines all of the features needed to make your poster printer machine a success at your school!
What if I already have a ColorPro Poster Maker, but I want your Poster design software for my school?
Is the design Studio software sold separately?
Any other points to add about the software?