What Comes With the Poster Maker Machine for Schools?
Our poster maker machines are wide-format printers specifically designed to provide a high-quality printing experience for educational institutions. These machines are ideal for printing posters, banners, and other large-format documents in-house.
When your school orders a poster maker machine, it will arrive pre-assembled, with all the necessary software, inks, and other components ready to use right out of the box. In addition to being cost-effective and easy to use, poster maker machines are incredibly versatile. They can be used to print a wide range of materials, from paper to vinyl.
The Right School Poster Printer Machine
With the right machine and the necessary supplies, your school can quickly and easily produce professional-quality posters and banners at a fraction of the cost of outsourcing. Additionally, the poster maker software will save your documents, allowing you to print them out again in the future if needed.
Here's what comes in the box with your poster printer:
Computer (loaded with predesigned templates)
Monitor
Inkjet Printer
Cords
Hardware
Accessories
Ink
Poster Paper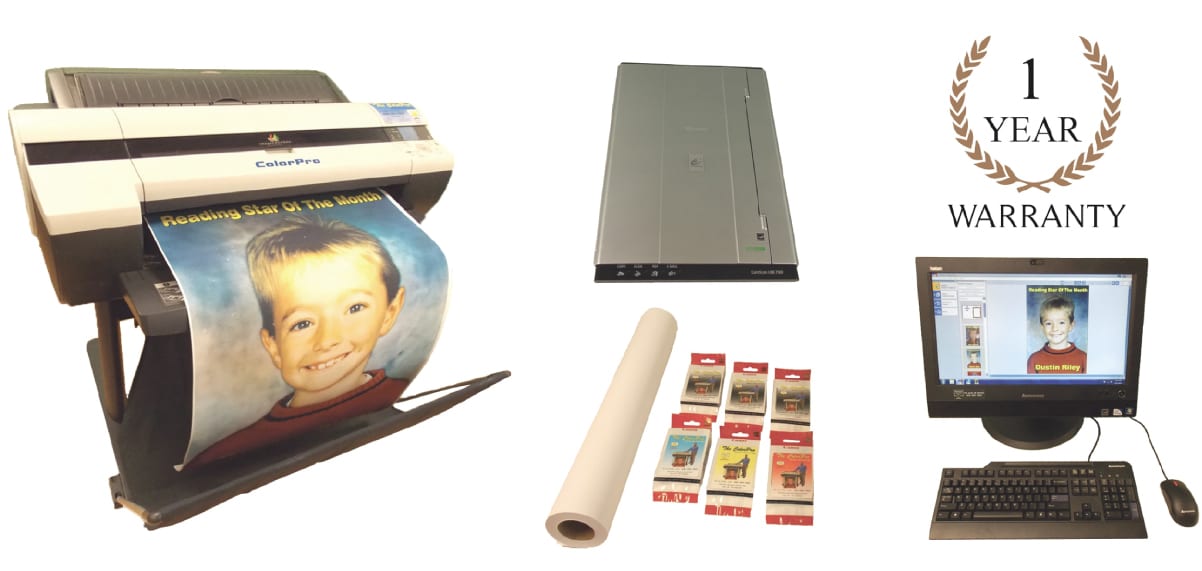 Once you receive your poster maker, you will be ready to start designing your first poster in less than thirty minutes! Additionally, we provide a step-by-step video to walk you through the process. You'll even have access to live customer support just in case you have any questions or concerns! Watch our unboxing video and see what's coming with the ColorPro Poster Printer.
Are Poster Printer Machines Worth the Investment?
Yes!  A poster printer for your school is worth the investment because it cuts out the middleman. Your school will receive all the necessary components and instructions to get it up and running without a hassle. This means you can start printing high-quality posters immediately instead of waiting for someone else to print full-color posters.
The poster maker machine is an excellent investment for any school, allowing you to print out large-scale documents without paying for a third-party printing service. The Color Pro Poster printer can handle various paper sizes and is easy to operate, allowing you to print out high-quality posters and signage for any occasion.  Additionally, our Design Studio software easily integrates with Canva, making designing customized posters even easier.
Are you ready to create high-quality visual aids that engage your students and motivate the community? Order a free sample and learn why the Colorpro is one of the best wide-format printers for schools!
Large-Format Printer Testimonials
Very Pleased!
We have used the Presentation Solutions Poster Maker for over 12 years! We are still using the same machine with wonderful results. Just purchased the new Ultra ColorPro and had great success with Graduation posters, banners, and yard signs. Beautiful products, and many, many people in our school district and community are very pleased with these products!
Positive: Professionalism, Quality, Responsiveness, Value