Poster Maker for your school
Welcome to the Colorpro Poster Maker Family
We provide the complete system. Everything you need comes together in one box/delivery.
Fast and supported installation in under 40 minutes…
Design software included
Ready to print within an hour of delivery.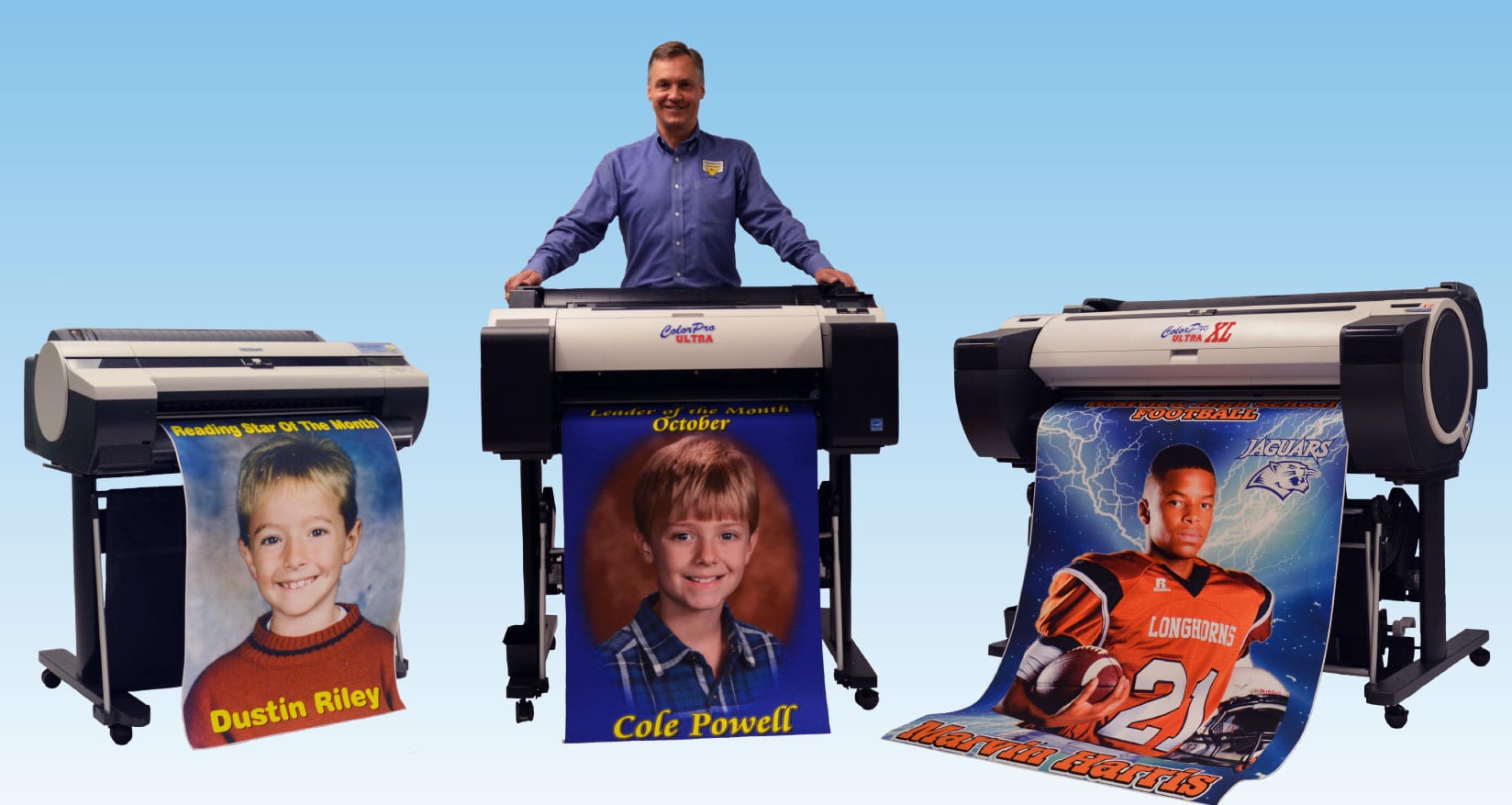 The ColorPro Family of Poster Makers
The Original – and the BEST – Full-Color Poster Makers for Schools 
The original ColorPro Poster Maker was the very first full-color poster maker developed specifically for schools… waaaaay back in 2007!  Since then, the ColorPro has evolved into a family of poster makers, encompassing several models and price points.
Now introducing a model for whatever you want to do and a Package for whatever budget your school has to work with. And best of all, no matter which model you choose, it will be an excellent system for your school.  We offer high-quality models designed to fit a price point!
Why do schools LOVE the ColorPro Poster Maker so much? Simple! Each ColorPro poster maker is more than just a printer-in-a-box. Every ColorPro is an entire turn-key system and comes with its own dedicated computer workstation, the Command Center.
Each Command Center (the "brains" of the system) is pre-loaded and integrated to be "ready to go" right out of the box – just plug it in and turn it on! No software installation necessary!
3 Ways to Print Posters
Depending upon which Package you choose, you can print posters in up to three (3) ways:
Direct from hard-copy documents like worksheets, lesson plans, textbooks, photographs, etc. You do this by simply clicking one (1) button – which is why we call it "Instant Poster!"
From our hundreds and hundreds of editable, Education-specific templates, including: Instructional, Motivational, Recognition, Anchor Charts, Data Walls, School Signage, Banners, Fundraising, and many more
Directly from a portable USB jump/flash drive! Any teacher can create anything on any computer and with any software.  Save it to a USB flash drive as a .pdf or .jpg… and print it directly from the flash drive!
What's more, many of The ColorPro's templates are designed to incorporate your school's own images, including your logo, students' pictures, and more. When people walk through your halls, we envision them seeing posters and banners with pictures of your own students, faculty, and volunteers everywhere.  This is so much more inspiring and motivating than clip art or "stock" images. This also creates a positive "aura" throughout the school, that is felt as well as seen!
Try Out Our Poster Maker Machines
Samples of our Poster Makers 
We'll help you figure out which version is best for your school's individual needs. Call today or request free quotes or samples.
Also, you can take a look at our Facebook Photos Page for a few samples of our Colorpro Poster Makers in use at our customer's schools.